As a small group of medical and science researchers dedicated to Earth-centric living through intensive investigation into ancient practices, we had, several years ago, developed various products derived of the purest Earth-borne ingredients and most-scrupulous techniques. After much refinement and adopting our products into our own lifestyles, we then decided, a couple of years ago, to launch our eBay and Amazon presence: The major reason for our wanting to test the market in these arenas had to do with our insistence on making sure that what we had developed would be received well by others. We planned from the very beginning that, if we were to receive unfavorable feedback, we would end immediately our venture. Moreover, we abhorred even the thought of engaging in a common practice of many "businesses" - that of planting positive reviews. The knowledge of our possessing superior products derived of superior ingredients endued us with the confidence to pursue our venture and allow our superiority to become self-evident. And did it happen: Within an unprecedented couple months' time, our products and our Customer Service became not only top-rated in both online marketplaces but also the highest-rated in the entire world, with, to this day, a great percentage of return customers worldwide. One will note from the overwhelming number of 5-Star testimonials and Product Reviews that the stories are highly-detailed and are verified purchases from individuals from every part of the world.

We are proud of our having created products that no-one else in the world can even attempt to make and are happy to share them with the rest of the world. And we are extremely grateful to those that continue to express appreciation to us for their privilege of acquiring such beautiful, mystical formulations that have made profoundly-positive impacts on their lives.

So we invite you to view our various YouTube videos, in which one will readily recognize the purity of our ingredients and ethics of our practices, and we encourage any questions that you might have by contacting us.

Thank you for your interest in EnerGold®.
Free Shipping Worldwide! USPS First-Class (Or Priority, Depending On Weight), With Tracking.

Feature EnerGold® On Your Social-Media Page, Website, YouTube Channel, Blog For A Golden Gift!

Credit-Cards and PayPal Are Accepted. See below for helpful screenshots.
Visit our

channel for videos of our beautiful, inimitable formulations, and also our

and

and

pages.
Ask us about discounts on bulk amounts for your proprietary products and high-volume quantities for your physical/online marketplace.


Please perform all your research and be absolutely sure before making a purchase, as these beautiful creations involve very expensive ingredients and laborious processes. And, as such, no refunds can be issued.
All EnerGold® 24-Karat Gold in a Bottle Monoatomic Gold/ORMUS packed in X-ray-proof bags.

How to Pay:
1. After you click on Add to Cart, a new window opens up to show what you have ordered. You may now click on Continue Shopping (lower-left) or pay either by any major credit-card by clicking on Check Out (lower-right) or by PayPal by clicking on Check out with PayPal (far-lower-right).
2. After you have made all your selections, in the lower-right corner of the invoice, click on Check Out or, if paying with PayPal, Check out with PayPal.


3. Another window opens, displaying your invoice with, at the lower-right, a link stating Pay with a debit or credit card.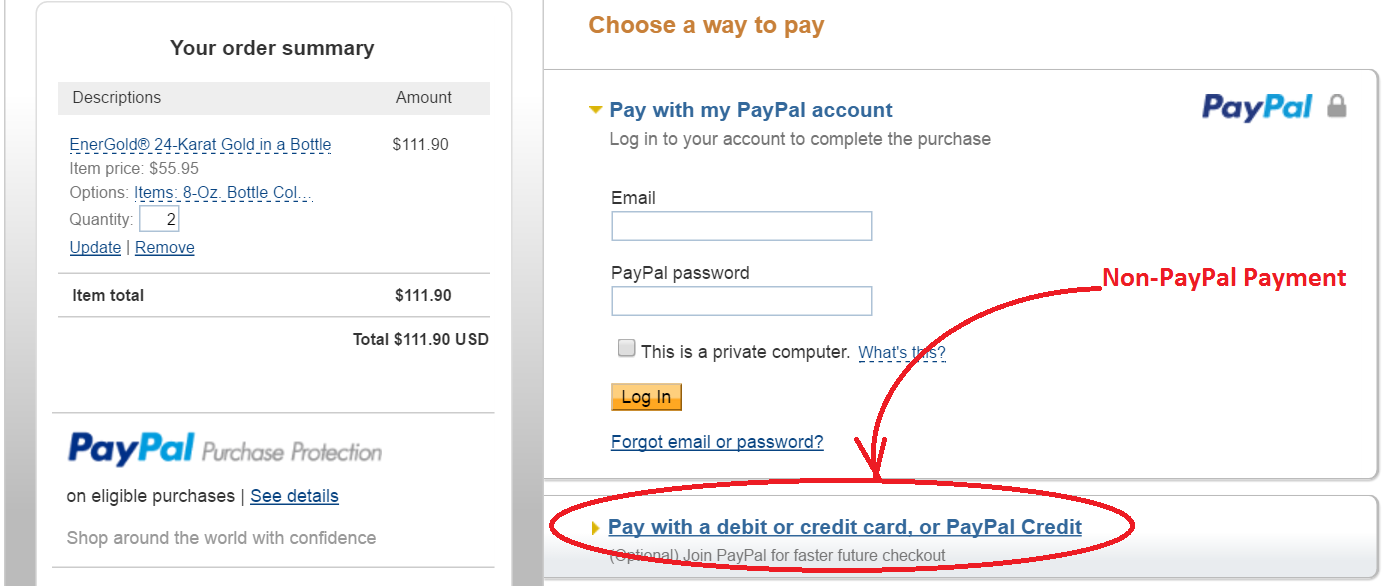 4. Clicking on this link will open a new window for inputting your specific credit-card information.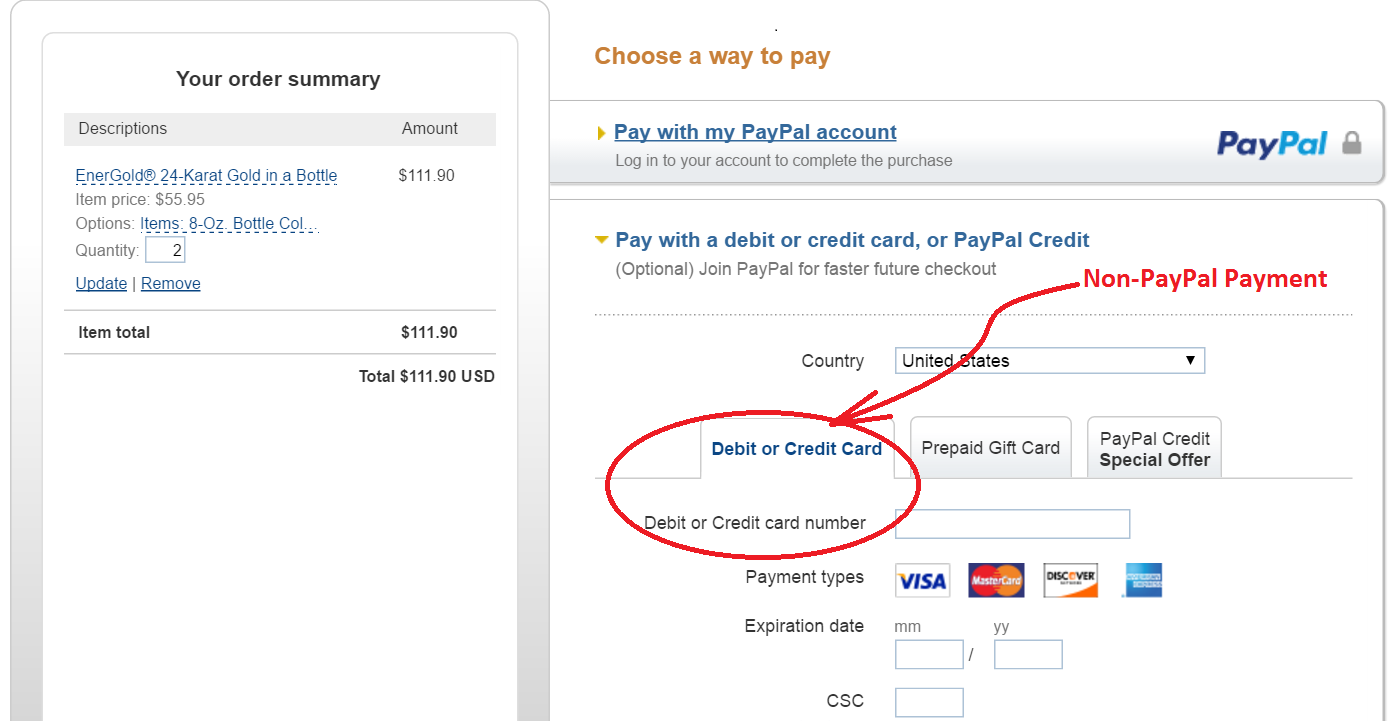 For Those Outside of the U.S.:


Thank you!


Note: Because everyone possesses a unique genetic composition and chemistry, one should consult his/her healthcare practitioner before use and also test for sensitivity, especially if one's chemistry is modified by medication. And, if a sensitivity becomes apparent, cease use immediately.
EnerGold, LLC makes no claims on the uses or effects of EnerGold®. Information on EnerGold® is provided for informational purposes only. EnerGold, LLC is not responsible for misuse or side-effects as a result of use of EnerGold®, and the consumer accepts all responsibility. Made in U.S.A.
© 2017 EnerGold, LLC. All Rights Reserved. Contact: info@energold24k.com.